Job hunting can be tough, but keeping a positive attitude and having a good plan is the best way to ensure success.
Whether you've been in the market for years, are a recent graduate, currently out of work, or just looking to move onwards and upwards from your role, here are some surefire ways to make sure you get noticed by the right employers.
Find examples of your skills
Are you a great leader? Or thrive in high-pressure situations? Think of a time you demonstrated this in a real work environment. These are questions that might be asked during an interview, and also things you should outline in your covering letter.
Networking
Connections with the right people can be the key to your dream job. Networking, whether in person or online, is an incredibly valuable tool for getting your name and experience out there. There could be a hidden prospect just around the corner.
Opportunities for networking:
LinkedIn (ensure your profile is up-to-date and you have a professional photo)
Volunteering
Taking courses and interacting with your peers and tutors
Do your research
Explore not only your career goals and job types, but also companies you might be interested in working for. Going directly to their website to learn about them and their company culture is a great way to find out if you'd be a good fit – and also shows initiative and tenacity.
Have a routine
Come up with a structure for your job search. If you're currently unemployed, this can be seen as a job in itself. Set up a comfortable space to send out applications and work on refining your CV and personal development tasks. Things like online courses, workshops, qualifications, and volunteering will make you stand out that much more from the crowd.
Ideas for planning your days:
Set a realistic target for an amount of jobs per day/week to apply to
Use a spreadsheet to track job opportunities and applications
Review new job postings daily
Practice interviewing
Set aside time to work on skills needed to land a job – attend webinars, complete online learning, do research into relevant topics, keep up to date with news in your preferred industry
Give yourself breaks! Job hunting can become monotonous and it's easy to get discouraged. Take regular breaks and clear your mind with a cup of tea, an episode of your favourite show or a walk outside.
Identify your goals
It's not the best idea to just apply to every job you see. A rushed application is obvious! So, before you start your search, ensure you are aware of what you want from your next position. Even if you're not 100% certain on the details, you can narrow it down to industry or area. If you're in between jobs at the moment, see the present as an opportunity to get into a career you'll really enjoy.
Make sure you:
Search by industry
Search by job title
Check company websites
Identify keywords to use for searches on job sites, e.g. 'marketing', 'communications', 'SEO'
See if you can align career goals with your interests
Make your CV stand out
Remember, employers often don't have time to thoroughly read every application. Make yours stand out by mirroring keywords in the job description and matching the key areas that they're looking for. Also ensure you highlight relevant qualifications, education and exciting projects you've been involved in.
Boost your CV by:
Being concise and succinct – catch their attention with facts, figures and achievements.
Using simple, clean and professional fonts that are easy to read.
Keywords, keywords, keywords! Your CV might be read by software before a human, and they look for specific buzzwords or phrases.
Expand your skills
Whether its refining or updating skills in a current area of expertise, or diversifying into different areas, completing a qualification or online course is really beneficial to a job search. It highlights your dedication to staying sharp and current whilst ensuring you have all the practical and theoretical knowledge to succeed.
Why not try Accredited qualifications in Marketing, Management and Sales?
Professional Academy offer a range of courses with options to study online, or via virtual or face-to-face workshops. All qualifications can be completed in a time frame to suit you, and you'll benefit from excellent learning materials and great tutor support.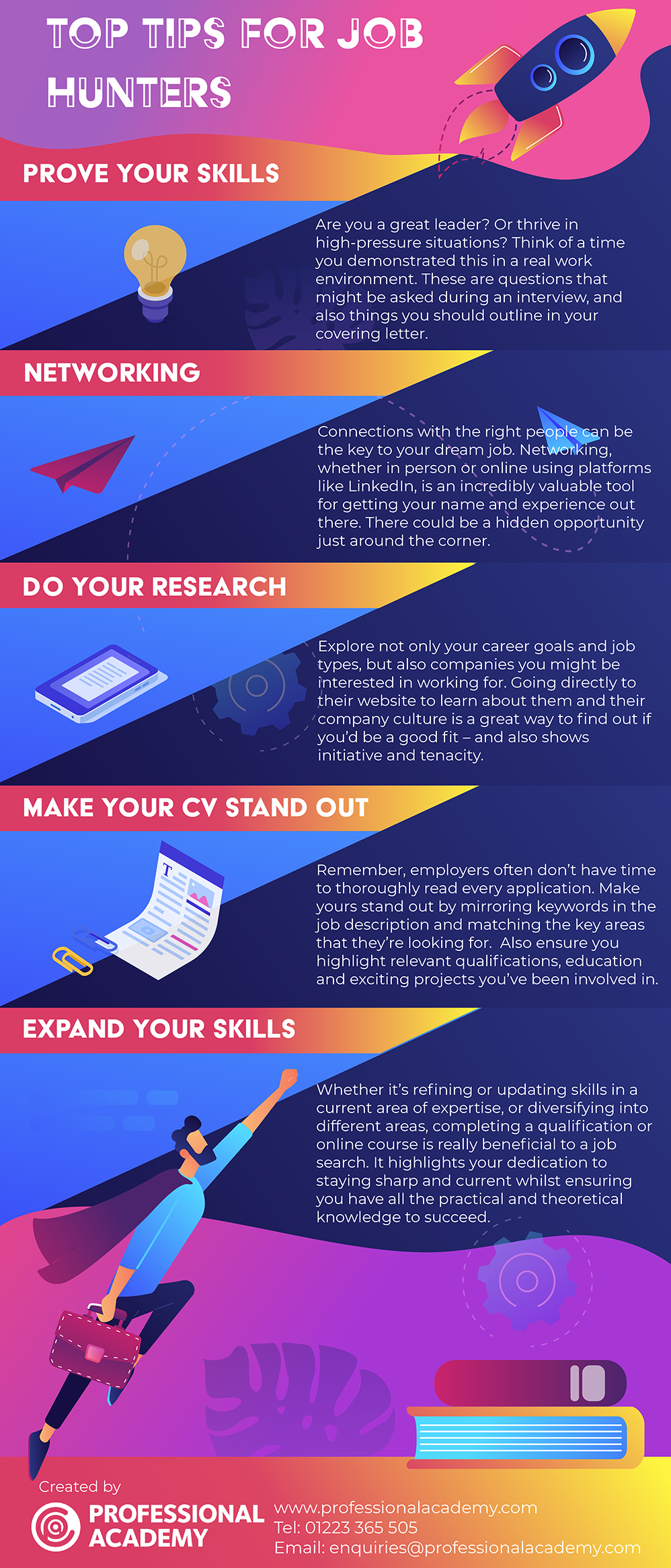 Get in touch to find out more about our qualifications and how gaining one can improve your employability!