Written by Productivity and Growth Expert - Tim Scott
Celebrity chef-turned-eco-warrior Hugh Fearnley-Whittingstall revealed a startling fact about Britain's 'throwaway culture' on Monday night. In his BBC1 programme, Hugh's War on Waste, he said that it "takes Britain just 10 minutes to throw away seven tonnes of clothes". Further highlighting that we trash over a third of our food sounds disgraceful.
But what he did not highlight was that this is built into the production cost and those suppliers which manage their internal waste and the ones which survive and prosper. More importantly it dis-regarded the consumer preference to pay for convenience and trend, and that "waste" is integral to the product and the satisfaction it delivers.
So as suppliers who listen to our customers what should we do? To change consumer behaviour is a long term societal issue and without macro intervention or economic driver of shortages (nostalgia from the war years) we should focus on what we can do within our own organisations.
So how do we identify waste? Firstly accepts that waste exists and is a function of daily working lives. Surveys show that around 80% of what we do is not valued by our customers, and around 50%of what we do doses not add value to our products and services.
We can live with inefficiency, the 80:20 rule holds true but as market facing organisations we know wants and needs change, plus new technology helps and hinders processes and people. The underlying law is that waste exists and will grow without intervention, and eventually will lead to uncompetitive performance.
To start your own waste audit try using the DOWNTIME approach to identify the 8 key sources of waste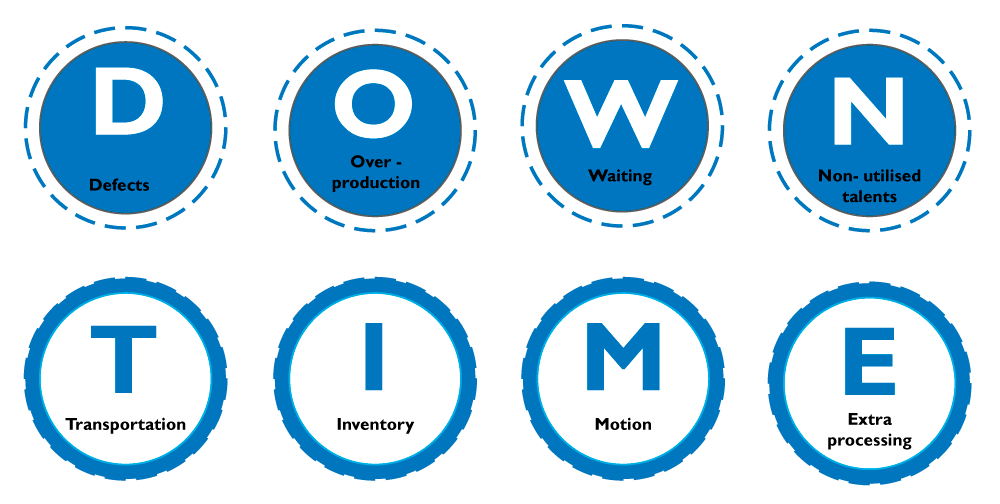 Defects – Products or services that are out of specification that require resources to correct.
Overproduction- Producing too much of a product before it ready to be sold.
Waiting- Waiting to start the next step or action of the process.
Non-Utilised talents – Workers that are not efficiently of effectively engaged in achieving tasks
Transportation – Transporting physical or virtual items that are not required to add value from one location to another (and may 'be back again).
Inventory – Any item (physical or virtual) that is sitting doing nothing and not being processed.
Motion – People, information or equipment making unnecessary movement due to layout, design, ergonomics including searching for misplaced items.
Extra processing – Performing any action that is not necessary to produce the desired product or service as demanded by the customer.
From the audit you should be able to identify areas of improvement to increase productivity. By adding a metrics, value or Key Performance Indicator this will enable priorities and change management to but in place.
The war on waste is nothing new, however solving it may need a little help. Getting your organisation to think and act to combat waste is why the Professional Academy have developed a range of courses to help organisations develop a culture of reducing DOWNTIME, increasing productivity and aligning organisational capacity and capabilities to meet market needs.
If you would like to book a meeting to discuss how Productivity and Growth training could benefit your company why not book a consultation today?