We are delighted to announce that one of our very own learners, Marisa Sloper, has been awarded the world's CIM Worldwide Overall Top Student Award by the CIM. This is a prestigious recognition of Marisa's exceptional hard work and dedication whilst studying her CIM Level 7 Marketing Leadership Qualification with Professional Academy. A practicing Marketing Manager with extensive experience in SME, UK, Global businesses and challenger brands, she effectively fit her studies alongside successful strategic marketing roles.
Professional Academy's Sales & Marketing Director, Michael O'Flynn, talked with Marisa about her experiences and background leading up to this:
Michael - First of all, congratulations on being awarded the Top Student award by the Chartered Institute of Marketing (CIM), how does it feel?
Marisa – Surprising, incredible and also extremely humbling. CIM Worldwide Overall Top Student Award was never on my radar, so to achieve this is amazing. I simply wanted to develop and build my skills to be the best marketer I could be.
Michael – I guess it would be best to start at the beginning, why did you decide to undertake the CIM Marketing Leadership programme in the first place?
Marisa – I wanted to future-proof my marketing skills. My career spans a diverse range of companies and industries where I have learnt a huge amount 'in/on the job'. It was the right time to apply my experience and invest in formal training. MLP7 builds marketers skills in assessing the environment, leading change in any business, organisation or sector and strengthens marketing competencies above and beyond a marketing support function. I've wanted to gain a professional CIM marketing qualification for many years.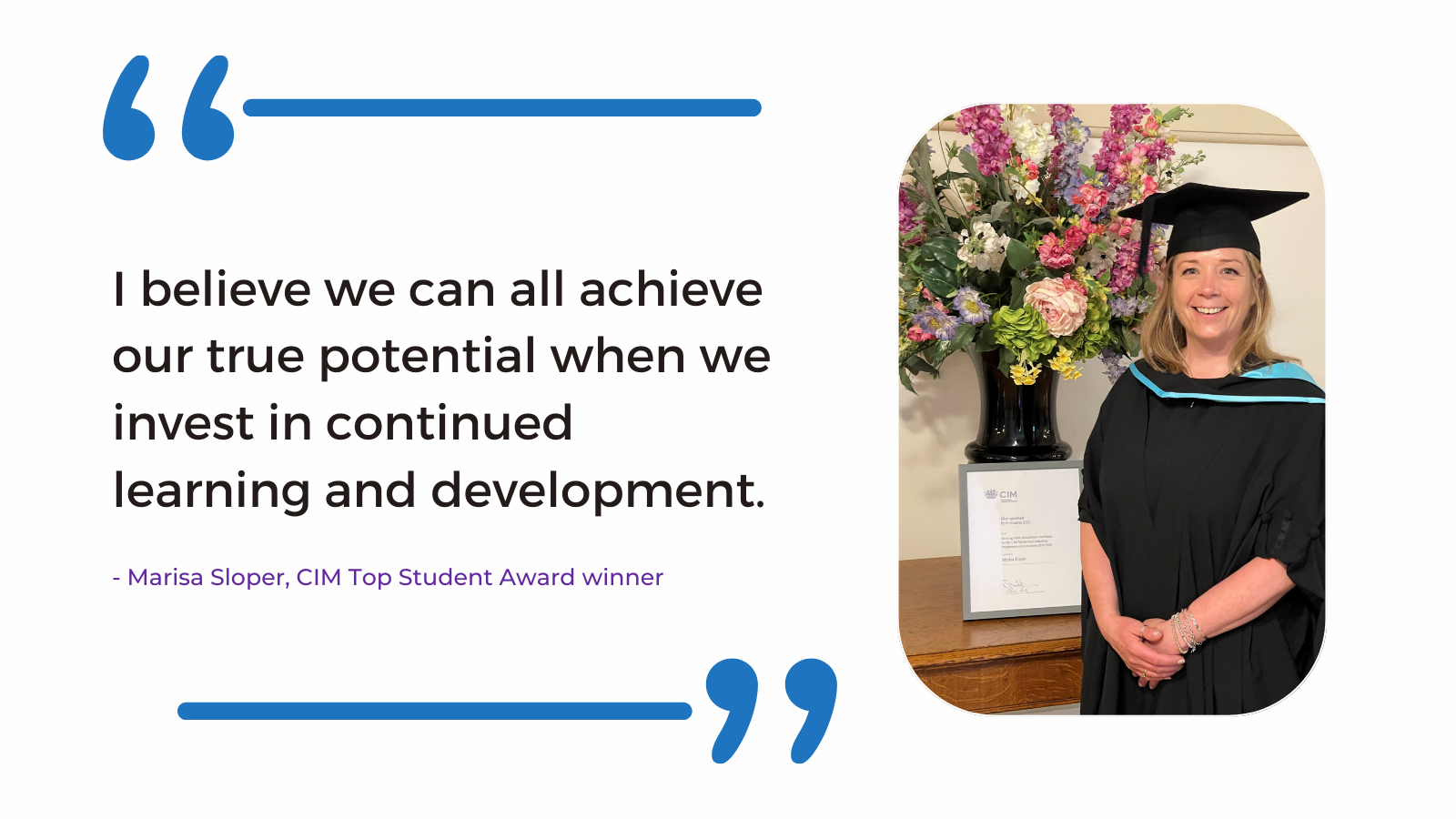 Michael – Though you have received such a tremendous accolade there must have been some challenges along the way, what would you say was your biggest challenge whilst studying?
Marisa –The biggest challenge was having less time with friends and family, and less time for my hobbies and passions. From the outset, I updated my friends and family so they could understand I wouldn't be as freely available for the next c18 months. I also needed to ensure my VIPs knew if they needed me, I'd still be there.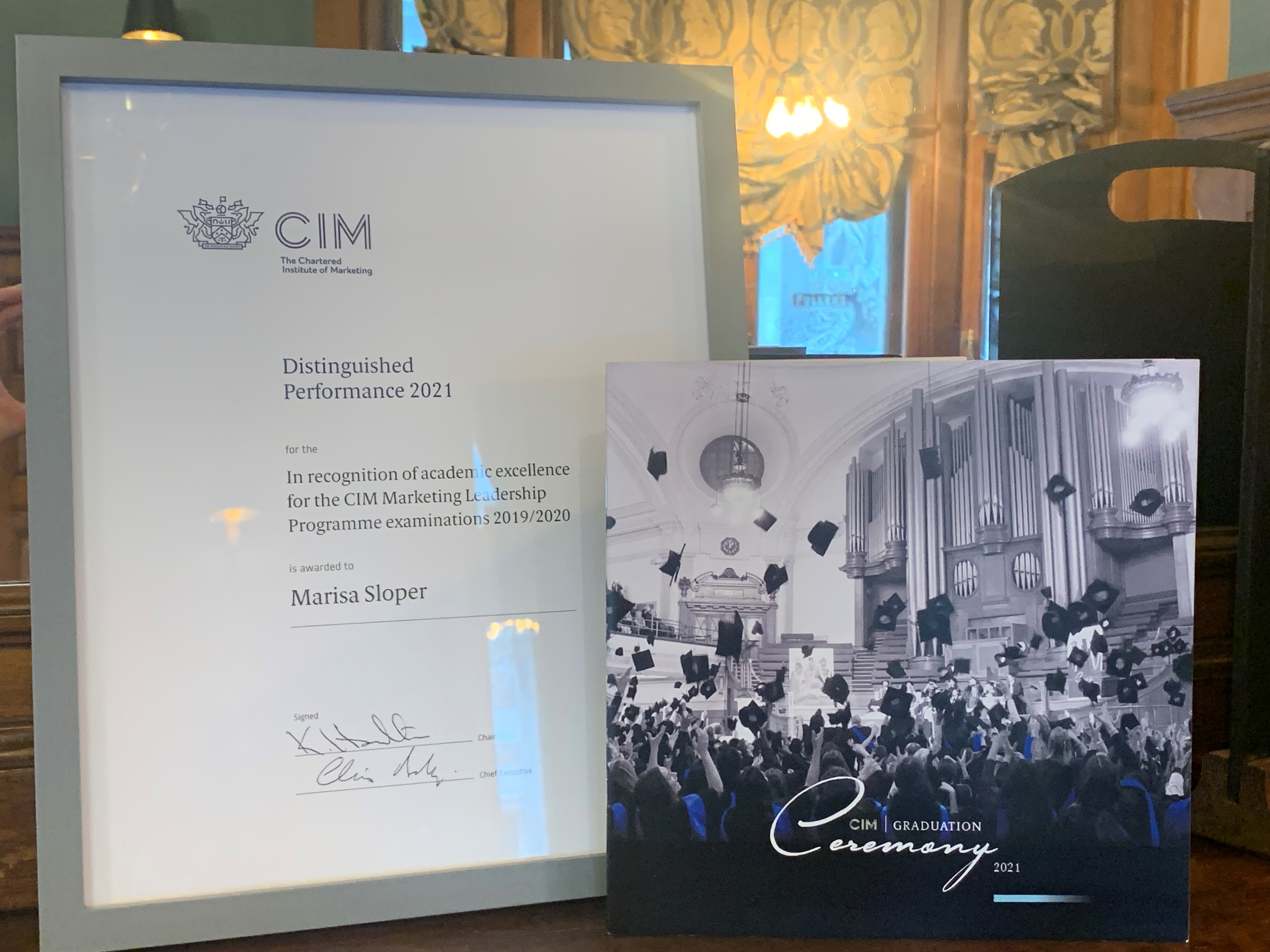 Studying at this level in addition to work is a big commitment. For those who know of Guy Martin and his "Go Big or Go Home" phrase, that was my mantra. If you want to reap rewards it takes commitment, talent, hard work and dedication.
Michael – Happily though you were able to overcome those challenges, What would you attribute your success too?
Marisa – I would put it down to five key things:
Choose the right study centre. I know I chose the right one. I have no hesitation in recommending the Professional Academy.

My tutor. From asking the right questions and challenging my thinking to prompting new reading and guidance, my skills have developed exponentially. I achieved my success with her tutelage. Thank you Carol.

Choose your support network. Family and friends, partner/husband patience, fresh eyes and proof-reading skills are invaluable.

Be organised. Make a plan, create a study time/framework that works for you. Success involves plenty of reading, researching, writing and refining.

Ensure you carve out quality time. Always prepare for your tutor 1:1 session. Create time for exercise, relaxation, Zen-like downtime and quality sleep.
Marisa's tutor, and also senior practicing marketer Carol Laing, was very impressed with her approach to the course:
"I am absolutely delighted to hear Marisa has been awarded 'Top Student Worldwide Award' but not at all surprised. Marisa was a joy to teach. Her commitment and dedication to her studies and her marketing career was reflected in her enthusiastic and professional approach to her L7 MLP qualification."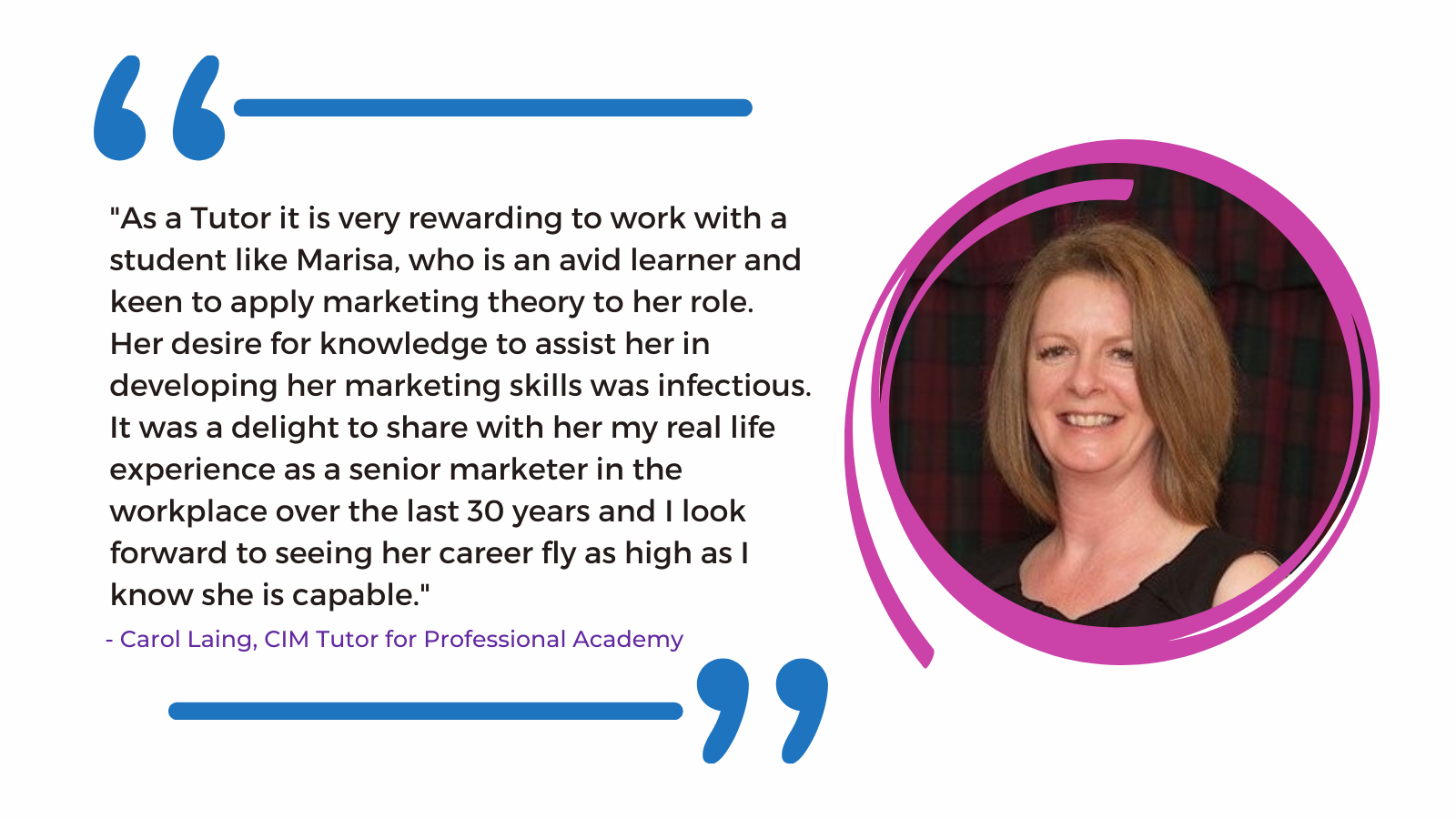 Another one of Marisa's tutors and marketing consultant, Andy Bargery, had this to say when hearing about her award:
"I am over the moon for Marisa; what an achievement. Marisa joined me for a workshop on Leading Change and immediately impressed me with her knowledge and passion for marketing. It is no surprise she has earned this high accolade."
Michael – We've been speaking recently about how incredibly busy you have been post-pandemic, but I was wondering has the qualification helped you in your day-to-day marketing role?
Marisa – Yes, I use what I've learnt every single day. I have since started a more senior role with a fresh opportunity to build a stronger and more talented marketing team which has greater influence on shaping the business' future success.
I know how to gain and use the right data and insights to influence decision-making from peers and stakeholders. I'm better equipped to identify growth opportunities and co-ordinate the right action. I add more value because I have more knowledge to better support the individuals within my team and the wider business to help everyone achieve more.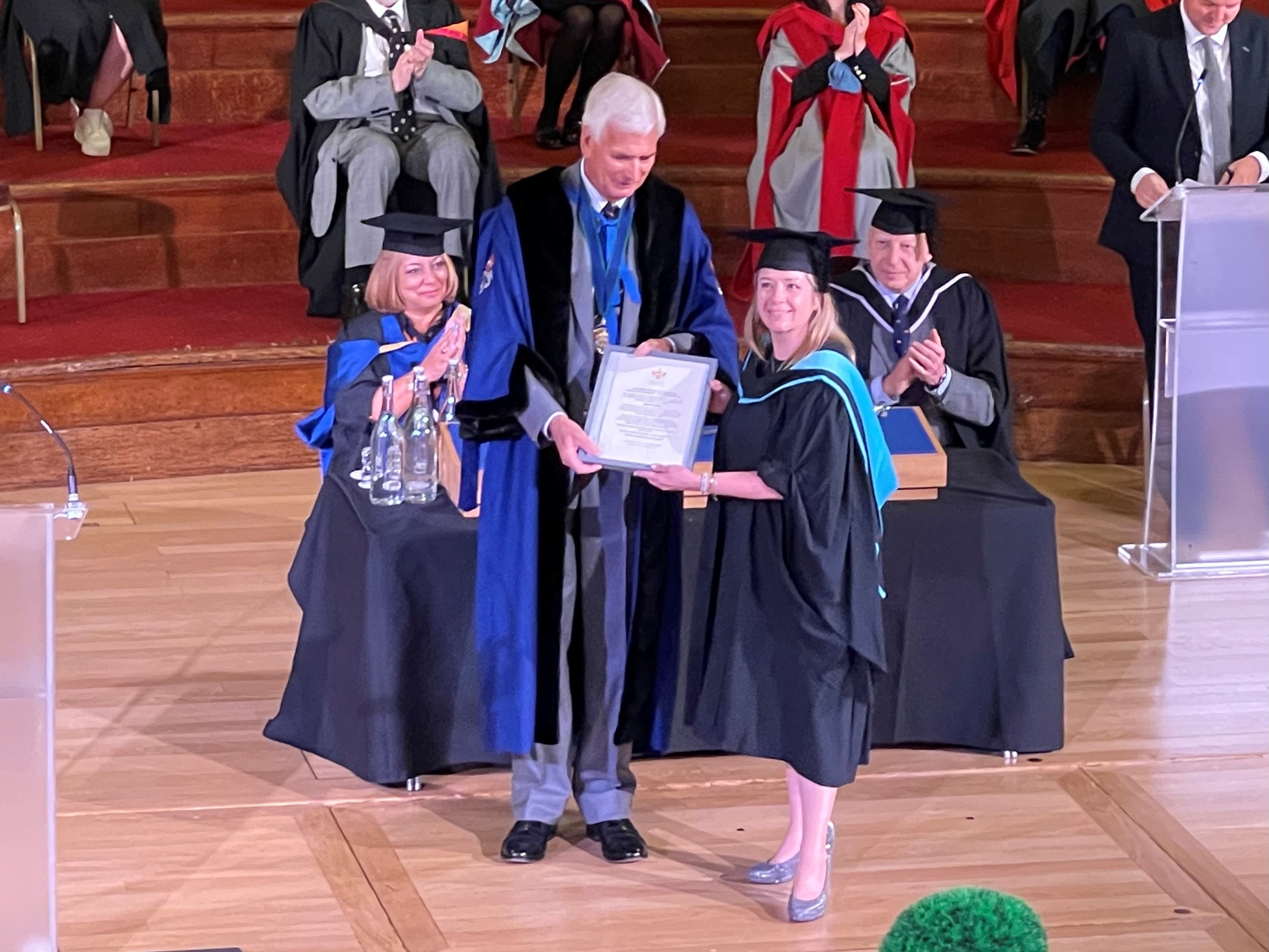 Michael - Finally, what advice would you give to anyone looking to achieve their maximum potential in marketing?
Marisa – That's a good question. Am I the person to give advice, as there are many paths marketers can follow. I hope this inspires you as it does me:
"Twenty years from now you will be more disappointed by the things you didn't do than by the ones you did do. So throw off the bowlines, sail away from the safe harbour. Catch the trade winds in your sails. Explore. Dream. Discover." (Mark Twain)
I highly recommend CIM Marketing Qualifications – I'm proof it works. My only regret is not creating time earlier in my career to study with the CIM because I have learnt so much. I also recommend keeping the CIM Definition of Marketing in mind:
"Marketing is the management process responsible for identifying, anticipating and satisfying customer needs profitably." (CIM)
Become a Member of the CIM and use the tools available to you. Marketing is both an art and a science requiring a broad range of skills, so in our fast-paced and competitive world to achieve your maximum potential, keep learning, testing, reflecting, moving forward and being brave.
We work in a creative and dynamic industry, so have fun, and enjoy the ride. The future is yours, what you create is within your power.
Martin Hutchins, Managing Director of Professional Academy, was thrilled with the recognition, praising her hard work as well as the support of her dedicated tutors: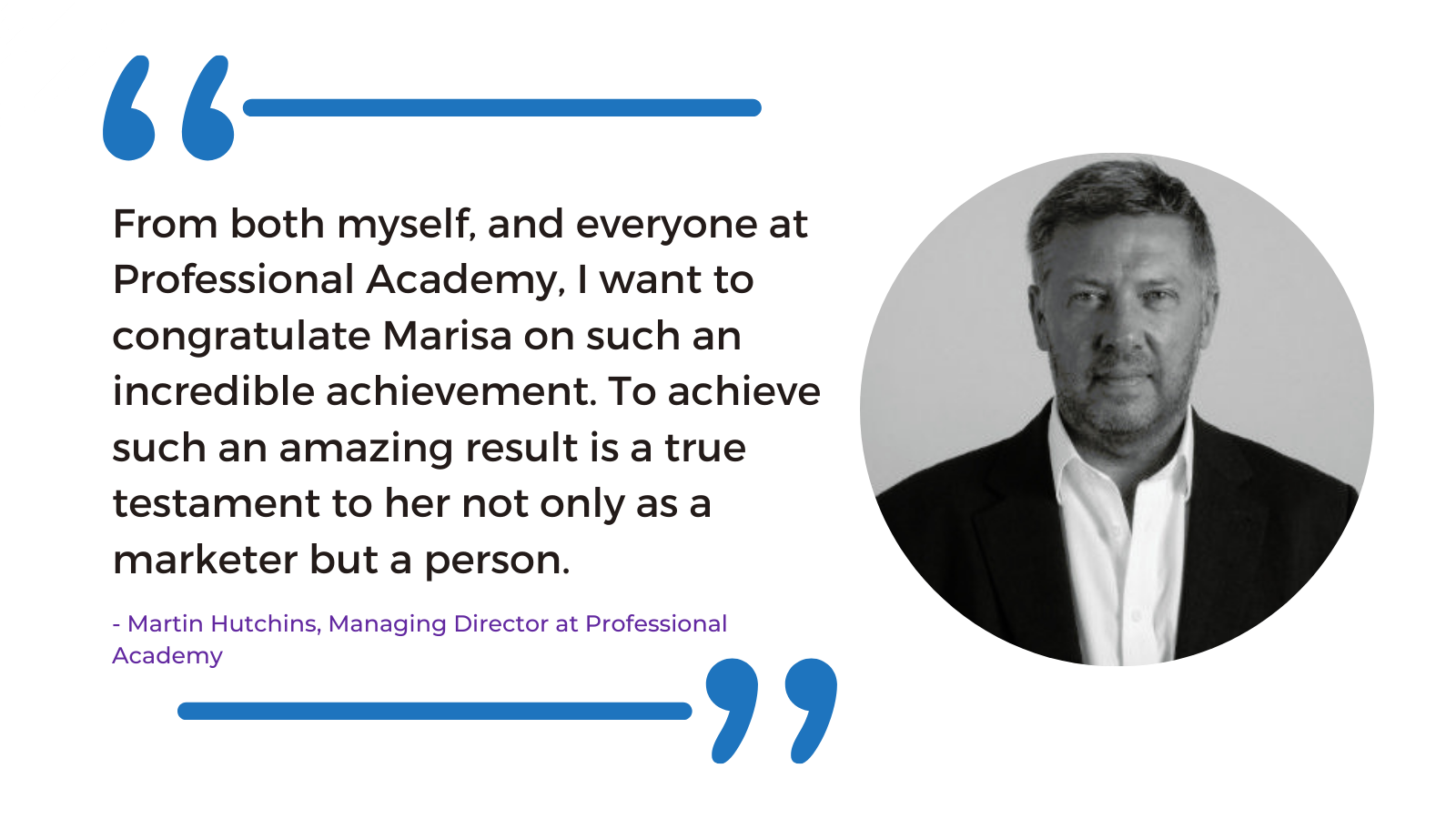 "I also want to personally thank the support team for their continuous efforts in supporting learners to achieve such incredible results, especially Andy and Carol in this instance who I know have gone above and beyond to support Marisa on her journey to Marketing Excellence."
We are incredibly proud of Marisa and all her hard work that's gone into earning this achievement, and wish her the best of luck in all future endeavours which we're sure will be impressive! If you want to begin or continue your journey as a professional marketer and mirror Marisa's success, why not get in touch today to see how a CIM Marketing Qualification can help? Contact the qualifications advice team who are happy to answer any questions, complete our Entry Level Assessment, or download a marketing prospectus to learn more.